From Ana's Story
First Steps
The Orange County Register
October 1988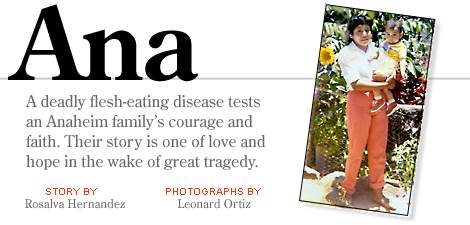 FIRST STEP: Ana stands on two legs for the first time since doctors amputated her left leg to the pelvis, and her right to the thigh. She also lost her right middle finger. Kolman Prosthetics donated the artificial legs to Ana after hearing her story in the news.
Home wasn't the only thing Ana was determined to win back. It was the rest of her life ã and walking again, she believed, was a big part of that.
When Alex Freire -- a Whittier prosthetist who had offered to construct her $25,000 new legs for free -- came by a couple of days later, Ana met him at the door, dressed and ready to go. Today, for the first time, she would practice on both limbs at once.
At Kolman Prosthetics, while Fidel and Daniel stood on tiptoe to watch, Freire adjusted the prosthetics on Ana.
The legs were short to give her better control and balance. They were constructed of light titanium and graphite to help Ana maneuver them more easily. He and aide Juan Llamas-Nunez had fashioned an Ultralite body mold to wrap around Ana's waist and cup the tiny remnant of her left leg. It allowed Ana to use her torso to swing the limb forward.
After a morning of painstaking cuttings and tightenings, there came the moment Ana had been waiting for. She lurched up on both legs. Fidel and Daniel automatically stationed themselves behind and in front of her in case of a fall. No one chided them, sensing the boys' support was necessary to Ana.
Hands gripping the bars, Ana bit her lip and slowly, forcefully, pushed her right leg forward. Then she sucked in a breath, heaved her body to the right and dragged the other leg up.
Ana had taken her first step.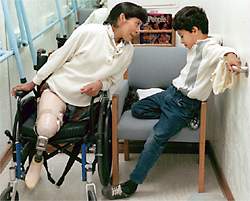 *********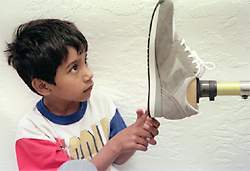 Click here to read the whole Ana story
Courtesy of the Orange County Register

Short stump,only 41/2inches. High activity, Hard to fit, Hard to cast, walks with the prosthesis, A film stuntman and actor. That was me a seventeen year amputee of 54 years old. Looking for that lab that would be able to meet my demands. Knew it was going to be tough. Found Kolman Prosthetics in 1993. After walking, running, jumping, skiing and working hard at destroying the best PTS I've ever had, I'm back to do it all over again. Professional, Knowledgeable, Technical, Proficient, Superlative. Kolman's is everything I looked for. I'll stick around.
Jon "L" Feather (Sag, Seg, Aftra, Equity, Stunts-a-bility)